UPDATE 16:00 EST:   Protests are raging across Ukraine including Keiv demanding a referendum to decide who leads Ukraine the ousted president or the thugs who took over in the western backed coup.
Russia has now poured 15,000 troops into Crimea. The Kiev government Saturday  night appealed to the European Union, the United States and NATO for help in  protecting Ukraine's territorial integrity.  They can do nothing except issue threats and protests.
UPDATE 13:L00 EST:  At least two provinces in eastern Ukraine have raised Russian flags over their government houses. 
Ukrainian air defense batteries in Crimea have defected to Russia and their systems will now be used to defend against any strike from the Ukraine.
Russian lawmakers unanimously approved a request by President Vladimir Putin to send armed forces to Ukraine to protect ethnic Russians there and secure the Black Sea fleet and other military installations in Ukraine's Crimea region.
In a 90-0 vote during an extraordinary session of the Federation Council, the upper house deputies argued that last week's disruption of "constitutional order." by the deadly American EU contrived confrontation in Kiev that overthrew President Viktor Yanukovich contrary to an agreement with the ink barely dry, exposed Ukraine's  Russian-speaking community to unspecified dangers.
The Federation Council also recommended that the Kremlin recall the Russian ambassador to the United States to underscore objections to remarks made by President Obama on Friday.
After overthrowing the elected government in Ukraine, and then backing a coup contrary to the agreement they had backed just the day before, America now has the chutzpa to threaten Russia.
At a White House briefing, Obama warned Putin that he was "deeply concerned" by the reported Russian military maneuvers in Crimea, Obama said there would be "consequences" for the Kremlin should it interfere in Ukraine's political crisis.

UPDATE 10:25 EST:  The Russian parliament has approved the use of the Russian military inside Ukraine.
UPDATE 10:10 EST:   Demonstrations and street fighting are now taking place in Kiev and across western Ukraine as well as in the east. At least 25 anti coup protestors have been injured in Kiev.
Russian President Vladimir Putin asked parliament Saturday for permission to use the country's military in Ukraine. "I'm submitting a request for using the armed forces of the Russian Federation on the territory of Ukraine pending the normalization of the socio-political situation in that country," Putin said in a statement released by the Kremlin.
In Kiev the coup leaders are consulting with the state security and military.
UPDATE 09:30 EST:  20 Russian soldiers have entered a Ukrainian  anti-aircraft missile command post in western Crimea and that negotiations for their removal rather than a clash were under way.
The new Crimean pm, has announced that a referendum will be held in the Crimea on March 30 to determine the peninsula's status. Meanwhile, he said, Russian Black Sea fleet servicemen were guarding important buildings. Russian forces now control all roads, sea ports, air fields and government building in the Crimea.
despite Kiev's blustering the 160,000-strong Ukrainian army is no match for the Russian army's operational capabilities and fire power.  Most importantly the loyalty of the Russian trained, equipped and supervised Ukraine army and security apparatus is far from guaranteed.   It is not clear where the loyalties of its officers lie, whether with the new pro-European regime or president, Viktor Yanukovych.  There is even the possibility of a Ukrainian  army putsch to overturn the Ukrainian coup.
Two US warships which had been deployed in the Black Sea to back up Russian security for the Olympic Winter Games in Sochi – the USS Taylor Frigate and the USS Mount Whitney Blue Ridge-class command ship – have moved over to the western side of the Black Sea opposite Crimea and facing the Russian navy base of Sevastopol.
The Mount Whitney is outfitted with sophisticated intelligence-gathering systems. Its current location  means that ongoing Russian military movements across central, southern and western Russia, around its borders with Ukraine and inside the Crimean peninsula, are being monitored and beamed to the White House
Yanukovych Back in Ukraine to Rally Supporters as Russia Gains Control of the Crimea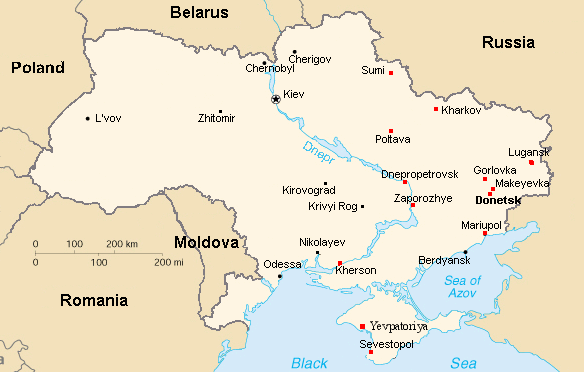 Deposed Ukraine president Yanukovych is now back in eastern Ukraine, touring the region in spite of the coup leaders seeking his immediate arrest, rallying supporters to demonstrate across Ukraine in a counter coup action.
Over 10,000 welcomed deposed president Yanukovych to the  city of Donetsk: Demonstrations against the new post coup Ukraine administration are also being held in Kharkov, Lugansk and across the eastern Ukraine.
Meanwhile the Crimean parliament on Thursday, appointed a new prime minister Serhiy Aksyonov; who Saturday asked President Putin for help in defending the peace [an euphemism for defending the Crimea against the Ukraine and a virtual declaration of independence.]   
The prospect of a full-scale Russian military intervention in Ukraine's Crimean peninsula mounted on Saturday, as the region's new prime minister asked for Vladimir Putin's assistance and a Kremlin source said it would "not leave unnoticed" the request.  In reply the Russian foreign ministry said it was "extremely concerned" about the recent developments in Crimea, which it said confirmed the desire of Kiev's politicians to destabilise the situation on the peninsula.
Crimea is now cut off from the rest of Ukraine after combat troops took control of its two airports and roads and Moscow reinforced its bases in the peninsula with more than  6,000 additional  men overnight Friday. 
The Crimea has now been successfully separated from Ukraine. 
The Crimea has always been a part of Russia until Khrushchev technically gave it to Ukraine to oversee as an independent country under Ukrainian supervision. Crimea only became part of Ukraine in 1954 when Soviet leader Nikita Khrushchev transferred jurisdiction from Russia, a move that was a mere formality when both Ukraine and Russia were part of the Soviet Union. The Soviet breakup in 1991 meant Crimea landed in an independent Ukraine.

The Crimea has remained a semi independent autonomous Russian populated region since then.  A minority of Tartars now live in the Crimea, but the Crimea has never been Ukrainian.
At his first appearance to reporters since the coup in Kiev, Ukraine's former
president Viktor Yanukovych said Friday he was not ousted but left the country because of the threats on his life by the fascist Soboba party which staged a coup just a day after agreeing to a western / Russian guaranteed interim government.
Yanukovych returned to the eastern Ukraine after Friday's speech made in Russia.
The present crisis came as a reprise to the western intelligence inspired Orange revolution from late November 2004 to January 2005. off eventually overturned by the supreme court.  The new government is going to be controlled by Yulia Tymoshenko, Mr Yanukovych's archrival, who upset him in 2005 and was later convicted of gross corruption and who was in prison until February 22nd. She has no official post, but Mr Turchinov is her right-hand man and Mr Yastsenyuk is the leader of her party, Fatherland.
Since May 2010 a series of criminal cases has been opened against Ukrainian politician and former Prime Minister of Ukraine Yulia Tymoshenko. Tymoshenko is one of Ukraine's most important politicians
As of November 2011, Tymoshenko has been under criminal investigation for ten criminal acts;[8] Ukrainian prosecutors have claimed she has committed more criminal acts.[9][10] The cases are:
intent to bribe

Supreme Court

judges in 2003,
misuse of public finances in 2009 — criminal cases involving "ambulances for rural medicine" and "Kyoto money" (

funds that Ukraine received for selling their quotas

under the

Kyoto Protocol

),

[11]

[12]

abuse of office

over a

natural gas imports contract signed with Russia in January 2009

,

[11]

criminal case on "

United Energy Systems of Ukraine

" (UESU) (1996-1997) is constantly reopened (in 2001, 2011) and closed (in 2001, 2003, 2005). Was reopened in Ukraine on 24 October 2011 (non-delivery by UESU of goods to

Russia

for $405.5 million in 1996-1997, 4 cases of tax evasion by UESU in 1996-1997),
involvement in the 1996 murder of

oligarch

Yevhen Shcherban

in

Donetsk

.
In addition Tymoshenko's lawyer Serhiy Vlasenko stands accused of car theft, robbery and failing to obey a court ruling stemming from his divorce.
On 11 October 2011, a Ukrainian court sentenced Tymoshenko to seven years in prison after she was found guilty of abusing her office when brokering the 2009 gas deal with Russia.
Since 5 August 2011 Tymoshenko has been in custody. At first she was held in Kiev, and  since December 30, 2011 Tymoshenko has been imprisoned in Kharkov. With a spinal disc herniation surgery in the meantime.
The net worth of the corrupt Yulia Tymoshenko is estimated at three billion dollars.  Western propaganda has avoided reporting on her corruption and has tried to divert attention by calling president Yanukovych corrupt.
When the changes brought on by that revolution began to fade; a new foreign backed revolution brought demonstrators to the streets again. 
The weeks of demonstrations organized by western NGOs resulted in an agreement, which the opposition then violated a day later; staging an outright coup violating the Feb. 21st agreement signed with three European mediators with a Russian presence.
Speaking from the Russian town of  Rostov on-Don, Yanukovych demanded that illegal weapons be handed to the authorities and blockades removed.
Normal life should be guaranteed in Kiev like all the regions of Ukraine. Instead of elections, he proposed a broad national s genuine needs.
First the coup leaders will have to give up and accept  Russia's demand to first of all honor "the peace deal signed last Friday, Feb. 21, by Yanukovych and the opposition, notarized by the Foreign Ministers of France, Germany and Poland and approved by the US."
This agreement recognized Yanukovich as Ukraine president and placed him at the head of a national unity government – not only of opposition parties but also factions sympathetic to Russia.  
An IMF mission is due in Kiev next week for talks with Ukraine's new leaders, who have said the heavily indebted country needs at least $35 billion over two years to stave off the bankruptcy.  That will take months and the need is more immediate,  the US and EU are meeting to put together an immediate aid package of 1.5 billion to get Ukraine through March.
Russia has already moved to offset that western financial support for the coup; Russia's energy giant Gazprom has bluntly warned Kiev that it had accumulated a "huge" debt of $1.5 billion for natural gas that needed to be urgently paid if the supply is to continue.
Friday Russian marines and paratroops took control of Crimea's main airports at dawn. Another group seized the region's key points – bridges, road hubs and power stations. Western sources referred only to "armed men sympathetic to the Russians," seizing the airport of the capital, Simferopol –  just as they described as "armed men" the Russian paratroops who stormed government and parliament buildings in the city the day before – and hoisted the Russian flag.
The authorities in Kiev Friday appealed to the US and Britain for military support against the takeover of Crimean airports by Russian marines and paratroops at dawn.
Andriy Paruby, secretary of the Ukrainian coup; National Security and Defence Council, the top security official in Ukraine's new power structure, stated to Interfax news agency on Friday that the army would not be deployed and other options to localize the crisis would be considered.
Ukraine has mobilized it military and security organizations; whether they are deployed to action remains to be seen..