2 Oct:   This concludes our Live Korea blog.  For world news and continuing Korea news, please visit our Monthly News Blogs beginning with the October 2017 edition.
President Trump will go to Japan, South Korea, China, Vietnam and the Philippines, as well as Hawaii, from Nov. 3-14.  The purpose of the trip is to lay out Trump's plan for North Korea and offer economic incentives for nations to go along or at least not interfere. 
Trump has been determined to go to war o destroy North Korea and ordered a plan into action at the beginning of his presidency.   US President Donald Trump tweeted Sunday: "I told Rex Tillerson, our wonderful Secretary of State, that he is wasting his time trying to negotiate with Little Rocket Man. Save your energy Rex, we'll do what has to be done!"
Meanwhile Japan has called a snap election and is using the DPRK crisis to push forward on remilitarizing Japan. 
If the DPRK does not radically change or collapse internally due to the heavy sanctions now implemented by China and the US, Trump is determined to destroy North Korea probably by massive aerial bombardment on the lines of the attacks on Serbia but many times heavier.  China is likely to enter the DPRK to stabilize the country and open negotiations with the South for a departure of US forces and a neutral reunified peninsula.  This air war is likely to be so horrendous as to motivate the South to reject the US force presence.    
29 Sep:   The White House announced Friday that Trump will travel to Asia in early November, with stops in China, Japan, South Korea, Vietnam and the Philippines. Trade and Korea will be major topics on the agenda.
US military buildup in Korea with all necessary American military for the destruction of the DPRK already in place. More DPRK missile/nuclear tests expected during or after the Chinese Party Congress in mid October.  Despite Trump claims Otto Warmbier had no signs of torture – coroner. 
China ends DPRK businesses in China as of 1 Jan  2018. 
27 Sep:  As I have warned for years China might  enter into a collapsed DPRK to stabilize that country,  from there look for negotiations to unite Korea as a neutral peninsula.
25 Sep:  The US will do everything possible to avoid a nuclear war with the DPRK.  That chilling statement neatly prepares the public for a possible nuclear attack by the US on North Korea.
24 Sep:  China announces limitations on its exports of refined petroleum products to North Korea from Oct. 1 and an immediate ban on condensates and liquefied natural gas. Beijing will also ban textile imports, one of Pyongyang's last major sources of foreign revenue.  
Friday, the DPRK said that a nuclear bomb missile test in the Pacific is planned.  Chairman Kim calculates that if he proves nuclear capability the US will sit down and negotiate peace and an end to threats against the DPRK,  this is a massive miscalculation.  Trump: "We can't have mad men out there shooting rockets all over the place."
On Saturday the US staged a massive air power fly by off the North Korean coast.
21 Sep:  The United States and the EU have just placed very heavy sanctions on North Korea and the Chinese banking system has cut relations with the DPRK.  
15 Sep:  North Korea launched a missile over Japan toward the Pacific Ocean Friday morning, The missile was fired from Sunan, the location of the international airport serving Pyongyang, North Korea's capital.  
The missile is believed to have reached an altitude of about 770 km (478 miles) and traveled some 3,700 km (almost 2300 mi), a substantial increase over  a North Korean missile launch in late August which traveled 1,700 miles and reached a maximum height of 341 miles as it traveled over the Japanese island of Hokkaido.
11 Sep:  The US has backed down on its extreme sanctions demands to get a unanimous condemnation of the DPRK in the UNSC. 
6 Sep:  The United States has circulated a draft Resolution on North Korea demanding that the United Nations Security Council impose an oil embargo on North Korea, ban the country's exports of textiles and the hiring of North Korean laborers abroad, and subject leader Kim Jong Un to an asset freeze and travel ban, according to a draft resolution seen by Reuters on Wednesday.  
The Resolution if passed and enforced would cause the collapse of the regime or possibly an internal coup,  and could be a non starter for Russia and China
The new draft U.N. resolution would ban exports to North Korea of crude oil, condensate, refined petroleum products, and natural gas liquids.

The assets of military-controlled airline, Air Koryo, would be frozen if the draft resolution is adopted. It flies to Beijing and a few other cities in China, including Dandong, the main transit point for trade between the two countries. It also flies to Vladivostok in Russia.

Textile exports would be banned, which were North Korea's second-biggest export after coal and other minerals in 2016, totaling $752 million, according to data from the Korea Trade-Investment Promotion Agency (KOTRA). Nearly 80 percent of the textile exports went to China.

The draft resolution would allow states to intercept and inspect on the high seas vessels that have been blacklisted by the Security Council. Currently nearly two dozen vessels are listed and the new draft text would add another nine ships.
U.S. Ambassador to the United Nations Nikki Haley has said she wants the 15-member council to vote on Monday on the draft resolution to impose new sanctions over North Korea's sixth and largest nuclear test. However, Russia's U.N. Ambassador Vassily Nebenzia has said a Monday vote may be "a little premature."
5 Sep:  North Korea seems to be taking a pause as the US pushes the UNSC for heavy sanctions on that country.   Russia has rejected any new sanctions and it appears that the North is being very careful not to take steps that would push Russia into agreeing with more sanctions at this time.  The next time there is sufficient provocation from the North – possibly Chairman Kim will see the approaching Middle East war and US involvement in Ira as an opportunity to conduct more tests – the US could attack the DPRK, claiming that diplomacy has been exhausted. 
4 Sep:  US rejection of talks with North Korea and a freeze of North Korea's programs for a easing of American exercises designed to destroy North Korea are interfering with American proposals for further UN sanctions.  Both Russia and China see more sanctions as pointless.  
Trump seems bent on war and if he can get at least a condemnation of the nuclear test, he can claim that the whole world agrees with him about the DPRK programs, which would be enough – in his mind – for him to attack without UN approval for an attack.
North Korea's weekend nuclear test is fueling a new round of US threats to attack them militarily. It is also expected to have the US leading a new round of trade sanctions at the UN, something which is expected to face heavy resistance from both China and Russia.
Chinese officials see a lot of the recent US sanctions against North Korea as actually targeting Chinese companies, part of what they call America's "China responsibility theory." China added that the US military drills are worsening tensions.
Russia was even more frank, saying that they've seen no good coming from the several previous rounds of sanctions, and don't see anything being accomplished by more such efforts. They said a different strategy should be tried.
Spokesman Dmitry Peskov made it clear that Russia sees diplomacy – meaning a freeze of the DPRK programs in exchange for a freeze on US provocative military exercises to be followed by genuine peace talks – as a necessary step, saying they're ready to take part in discussions on the situation, and are urging the rest of the UN to remain calm and avoid hasty actions.
Diplomacy – meaning a freeze of the DPRK programs in exchange for a freeze on US provocative military exercises to be followed by genuine peace talks – has been pushed by not just China and Russia, but also South Korea. The Trump Administration, however, has denounced this approach as "appeasement," and insists that North Korea "only understands one thing."
The UNSC is preparing to approve a Resolution condemning the North for yesterday's 50 Kiloton nuclear test and North Korea seems to be ready to answer with more missile tests in the coming days or weeks.  The United States is rushing another Carrier Strike Group to Korea and moving heavy bombers into attack positions while the US and South Korea practice war on the DPRK.  It may be that after a unanimous condemnation of the DPRK for yesterday's nuclear test, that America will declare that they have a green light to attack if more missile or nuclear tests are carried out.
3 Sep:  US Defense Secretary James Mattis threatened military action against North Korea on Sunday,  "Any threat to the United States or its territories including Guam or our allies will be met with a massive military response—a response both effective and overwhelming," Mattis said at the White House. "We are not looking to the total annihilation of a country—namely, North Korea. But as I said, we have many options to do so."  
He was speaking as President Donald Trump led a meeting of his national security team at the White House to decide on action against North Korea. 
Meanwhile Chinese President Xi Jinping and Russian President Vladimir Putin agreed Sunday to cooperate and  "appropriately deal with" the latest nuclear test by North Korea. "The two leaders agreed to stick to the goal of denuclearization on the Korean Peninsula and keep close communication and coordination to deal with the new situation," Xinhua said in a brief dispatch.
The US and South Korea held drills practicing an attack on the North as  Chinese and Russian leaders were meeting on the sidelines of a summit of the BRICS group of nations in the southeastern Chinese city of Xiamen in preparation for an emergency UNSC meet tomorrow.
Trump meeting with military chiefs and threatening to withdraw from trade pact with South Korea, possibly as a threat to get SK on line for war with the North.
The White House has announced that President Trump and his national security team will meet later today to discuss the American response to the North Korean nuclear test.
BREAKING 03:00 PDT:  The US Geological Survey recorded a 6.3 magnitude earth tremor,  from North Korea's test side in Punggye-ri in the northeast region.  North Korea claims to have tested a hydrogen bomb miniaturized for delivery.  The world is in shock by a nuclear breakout deemed impossible for at least several years in future.  The US and regional allies are in immediate emergency consultations.  North Korea has been working with Iran on the project, allowing Iran to deny a nuclear weapons program inside that country.   This test practically guarantees war on both North Korea and Iran in the near future.
29 Aug:  North Korea fired a missile over Hokkaido Japan yesterday.  The missile traveled 1,677 miles.
15 Aug:  North Korean leader Kim Jong-un said early Tuesday that he would watch US actions before making a decision on the planned missile test.    This is not a resolution, and if the whole problem is not resolved will merely be a postponement until a more opportune time.
14 Aug:  The United States is planning to begin a massive exercise called Ulchi-Freedom Guardian, rehearsing a decapitation of the NK government and an invasion of North Korea on Aug 21 – 31.  This annual exercise which has been getting bigger and bigger each year may be the reason that the DPRK, feeling seriously threatened is announcing a long range missile test at about the same time.
The Real Issue:  North Korea, Russia and China are asking that the threatening and very provocative US exercises be stopped in return for a freeze of the DPRK's missile program and the US refuses.
13 Aug:   Japan mobilizes its air defenses: Convoys of Patriot PAC-3 advanced missile defense systems were seen arriving Saturday at a military bases in Hiroshima, Tokyo and three other main cities.
US and Japanese troops began a joint exercise on the Japanese island of Hokkaido on Thursday. The drill, named Northern Viper 17, involves about 500 U.S. Marines and 18 American aircraft. It is scheduled to last until August 28.
Trump has indicated that his goal in this situation is to denuclearize Korea.  Congress is currently in summer recess.
11 Aug:   Joseph Yun, the U.S. envoy for North Korea policy, and Pak Song Il, a senior North Korean diplomat at the country's U.N. mission, have been holding talks while Canada has held talks in Pyongyang on behalf of the United States.  The US is still refusing to renew the six party talks as requested by the DPRK.
Trump announces "Military solutions are now fully in place, locked and loaded, should North Korea act unwisely".  China announces its position on Korean hostilities.
After consulting with his military chiefs on Monday, Trump has sent most of his B-1B bombers to the Pacific where they will augment the six already stationed on Guam for a possible attack on the DPRK, if Chairman Kim is foolish enough to carry out his planned long range missile test.  The warplanes began arriving in the region on Tuesday.  The possibility remains that  Un might delay his missile test – and another nuclear test – until the US is occupied with Iran during the coming Mideast war.
President Trump and the American propaganda machine are falsely presenting a planned North Korean missile test as a direct attack on the US – when it is an attempt to demonstrate that the DPRK does have a long reach in order to bring Trump to negotiations – and presenting such a test as a Casus Belli for a crushing military attack on the DPRK.  See yesterday's link on the missile test. 
10 Aug:  North Korea announces it is waiting for the order to conduct a new missile test, this time sending four missiles to an area near Guam.  Trump would probably respond harshly to such a test but Chairman Kim might act at what he judges to be an appropriate time.
9 Aug:  US Defense Secretary Jim Mattis warned North Korea in the strongest terms Wednesday, Aug. 9 to stop any action that would lead to the "end of its regime" and the destruction of its people."
He said in a statement: "The DPRK must choose to stop isolating itself and stand down its pursuit of nuclear weapons. The DPRK should cease any consideration of actions that would lead to the end of its regime and the destruction of its people."
Mattis pointed out that the DPRK regime's actions "will continue to be grossly overmatched by ours and would lose any arms race or conflict it initiates." Mattis added that while the State Department was making diplomatic efforts, the United States and its allies have the most "precise, rehearsed and robust defensive and offensive capabilities on Earth."
President Donald Trump appears to be ready to attack North Korea if another nuclear test is carried out.  After a recent missile test and today's announcement by American and Japanese intelligence agencies that "there is evidence that North Korea had achieved miniaturization of nuclear weapons, meaning that it could build a nuclear warhead small enough to fit onto an intercontinental ballistic missile; Trump warned Tuesday: "North Korea best not make any more threats to the United States. They will be met with fire and fury like the world has never seen," he told reporters from his golf club in Bedminster.  "He has been very threatening — beyond a normal statement," Mr. Trump said of North Korean leader Kim Jong-un. "As I said, they will be met with fire, fury and frankly power the likes of which this world has never seen before."  
North Korea is working closely on joint missile and offshore nuclear programs for Iran. Both Iran and North Korea could be attacked by the US in future.  
A general Middle East war is coming soon and North Korea may be planning its next nuclear test when the US is deeply engaged elsewhere.  In  any military action today's North Korea and Iran stand little chance, especially if Trump decides to use one or two small relatively radiation free nuclear weapons to clear missile launching areas.
6 July:  Allied Commander ROK issues announcement that the US and ROK are ready to launch war on the North as soon as ordered to do so.
29 Jun:  Under enormous US pressure  South Korean President Moon Jae-in, has now elected to stand with Trump against North Korea.  Trump continues to threaten to attack the North Koreans.
28 May:   A Mideast war is brewing and Kim may be holding back his next nuclear test until the US is occupied elsewhere.  Trump is still determined to change the regime in North Korea and leave the aftermath to China and South Korea.
16 May:  New South Korean president to visit Washington in late June.
Russia tells US to stop threatening North Korea and talk responsibly. The American belligerence and refusal to talk to N.K. until N.K. agrees to all US positions first, along with Syria and Ukraine are fueling ever deepening rifts between East and West and a crisis seems to be coming.
14 May:  North Korea fired a missile early Sunday from a launch site near its border with China some 450 miles into the sea between the Korean Peninsula and Japan.  It was the first launch since Moon Jae-in, who promotes dialogue with the North, was elected president of South Korea last Wednesday. The new S.K. president immediately called an emergency meeting of his national security council.
12 May:  Trump may still eventually attack North Korea over missile / nuclear program without permission from South Korea, and leave it up to South Korea and China to pick up the pieces.
11 May:  Sworn in early yesterday, South Korea's new President Moon Jae-in has promised to "urgently" tackle his nation's serious foreign policy problems, with an eye on trying to defuse soaring tensions with neighboring North Korea, while also trying to come to some sort of agreement with the US and China over the THAAD missile defense system.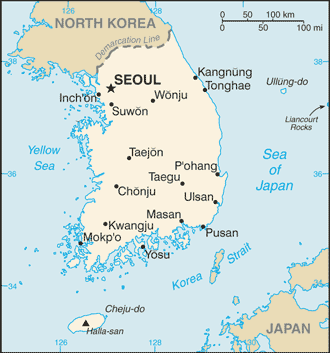 Moon is an advocate of diplomacy, who has promised a return to the Sunshine Policy which aimed to improve relations with North Korea. He has also said he favors peaceful reunificiation of the Korean Peninusla, and thinks South Korea should feel free to "say no" to the US
That could be an early test for him with respect to the THAAD, as Moon has made clear he believes the US deliberately forced the THAAD deal through during the lame duck government to avoid having to negotiate on the system properly. The THAAD is increasingly opposed among many South Koreans, particularly based on Trump's calls for them to pay for it.  
Trump has invited Moon to Washington for talks.
9 May:   Trump losing Korea and Pacific Asia?
So far the Trump presidency has been a disaster for America with Trump trying to bully everyone in sight.
When President Trump demanded that South Korea pay for the $1 billion THAAD missile defense system being installed in South Korea, South Korean officials made it clear pretty quickly that wasn't going to happen. They had an agreement signed, after all, and payment wasn't part of it.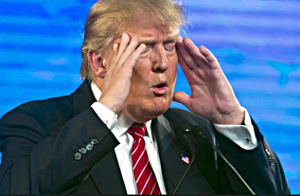 National Security Adviser H.R. McMaster was quick to try to defuse the issue, insisting that the US would "adhere to our word" and pay for the THAAD, and that Trump's talk of paying wasn't official US policy. Apparently he didn't talk to Trump about that before the call.
Several sources are now reporting that Trump was "furious" over McMaster's comments to South Korea, got him on the phone and screamed at him, accusing him of "undermining him" on the plan to get South Korea to pay for THAAD.
This comes amid growing reports that McMaster has fallen out of favor within the administration, particularly with Trump, though the White House is insisting Trump still has every confidence in him. That's not what insiders say, however, with many reporting Trump "regrets" McMaster as a replacement for the sacked Gen. Flynn as National Security Adviser.
One too many threats by Donald Trump may have decided the South Korean election; this one the economic threat to cancel the US South Korean economic relationship with the US set the whole nation against the US and caused them to elect a pro China president and forced them into the arms of China.  
Has Trump been denied a war on North Korea?  Could peace be in the air with a move by South Korea towards China and away from the US?  That now looks possible.
Moderate Moon wins South Korea presidency, will seek peace with North, rapprochement with China.
China invites North Korea to major economic summit as new South Korean President vows peace with North and relationship with China, turning away from America.  For more than a decade the North has said its nuclear program was in response to US / S.K. preparations to attack it, saying the nuclear program would stop if the US stopped its major military exercises against the North.  
The Chinese economic summit is to replace the Pacific Asian free trade association which was cancelled by one Donald Trump, driving the Pacific Asian nations into the arms of China-Russia and the Shanghai Cooperation Organization sphere of economic influence.
---
April, 2017
US President Trump has sent an ultimatum to North Korea via Chinese diplomats warning that any further nuclear or missile testing would bring an American attack.   America informed Japan and South Korea about the pending attack weeks before the visit of the Chinese president to Florida.  
In Pyongyang Friday, sirens sounded for a snap civil defense drill, while in Seoul, the South Korean capital, some big corporations have begun evacuating their offices. Vice President Mike Pence travels to Seoul Sunday.
The plan to attack the North over its nuclear and ballistic missile testing programs triggered a government crisis in South Korea and the impeachment of the hard line war supporting president incumbent Park Geun-hye, on charges that her friend may have done something illegal.  That charge was a fig leaf for a power struggle between the war supporting hard liners and the softer peace oriented politicians. The new elections on May 9 are expected to bring in a new president who will stop the planned attack if it has not yet begun.  
The UNSC has passed several Resolutions condemning North Korean nuclear and ballistic missile testing in the past, but has never authorized any enforcement beyond certain sanctions; therefore any Allied strike would be technically illegal.  Nevertheless there are various factors in play which make an attack on North Korea's nuclear and missile programs essential.  
First is the obvious threat to South Korea and Japan which is continually growing and will reach Australia and Guam in the near future.  
Second and equally important is the fact that North Korea is part of the Axis with Iran, Syria and Hezbollah; and its research programs are sponsored by and will benefit those states.  
Contrary to western propaganda, Iran has never had an indigenous nuclear weapons program, they are much too smart for that.  Iran's nuclear program is in North Korea where Iran is very heavily invested and involved in the North Korean weapons programs.  
North Korea is prepared for a sixth nuclear test as soon as Saturday morning and other missile launches are expected in the lead up to Army Day April 25th.  The test weapon is estimated to be 19 times the size of the Hiroshima bomb and the final test before a working model can be produced for military use.  
Once this test is completed and analyzed, if it is successful,  nuclear weapons for military can be produced for North Korea and for export to her Iranian ally. 
Preparations  
300,000 South Korean troops with 17,000 US troops and troops from other allies have been practicing a regime decapitation and take down for weeks now,  

The United States has just sent a powerful armada being joined by Japanese and other allied warships off the coast of North Korea,  

The THAAD air defense system has been deployed,

On Thursday the US deployed its heavy bombers to Guam and Japan,  

China has deployed 150.000 troops along its border with North Korea,  

China suspends all flights to North Korea.
In reality the North Korean military is antiquated and no match for a modern enemy, which is why they are trying to develop a nuclear capability.  
North Korean regime change is viewed as an essential part of the coming Mideast war against Hamas, Hezbollah, Syria and Iran.   Along with the attempt to change the North Korean regime the focus will be on the Islamic State and then on a Syrian solution, while Israel takes care of Gaza and Hezbollah and the US Coalition destroys the Revolutionary Guards and changes the regime in Iran.  
This will bring confrontation with Russia resulting in the rise of a New Federal Europe.
June 2016:  Korea Background History
After the Japanese Meiji Restoration in 1868, a modern industrial state and a modern military were built for Japan by Britain and the United States over the next decades.  By the turn of the century the Russian Trans Siberian railroad was completed and Czar Nicholas II sought a permanently open port at Port Arthur in Manchuria because the Russian port at Vladivostok was closed by ice much of the year.  
Since Manchuria and Korea had long been in the Japanese sphere of influence, the 1904 – 1905 Russo Japanese War broke out and Russia was defeated by Japan.  In 1910 Japan annexed Korea and Manchuria and along came WWI, followed by the Bolshevik Revolution in Russia.  
By the mid 1920's resistance to the Japanese in Manchuria grew, with Russia backing a Communist Movement led by Mao and the US backing a Nationalist Movement led by Chang Ki-shek in China proper, from which they fomented resisted to Japan in Manchuria.  
Later after the fall of Japan in WW II these two movements fell to fighting one another.  It is a fact that the United States was attacking Japan via China for years before Pearl Harbor.  
These movements in China and Manchuria resulted in a similar situation in Korea with the communists mounting a guerilla movement to fight Japan backed by Russia under Kim Il-sung, who had received military training in Russia and been sent to organize resistance in Korea as a major in the Soviet army.   Not to be outdone America sent Syngman Rhee to lead a nationalist movement backed by the United States
With the defeat of Japan, Russia and the US agreed to divide Korea at the 38th parallel until the country could be unified.  This move was to separate American and Russian troops while about 700,000 Japanese were being evacuated to Japan, and allow time for an indigenous government to be formed since Korea at that time had no history of independent governance.  
Quickly the two sides began to consolidate their hold on the respective regions with the Russian controlled North putting down all American sponsored nationalists and the US military controlled South making similar efforts against the communists.  
The two sides could not agree on a formula that would produce a unified Korea, and in 1947 U.S. President Harry S. Truman persuaded the United Nations (UN) to assume responsibility for the South, although the U.S. military remained in control of the South as a UN Trust. 
The creation of an independent South Korea became UN policy in early 1948. Southern communists opposed this, and by autumn communist uprisings had engulfed parts of every Korean province below the 38th parallel.
The fighting expanded into a limited border war between the South's newly formed Republic of Korea Army (ROKA) and the North Korean border constabulary as well as the North's Korean People's Army (KPA). The North launched cross-border guerrilla incursions in order to draw ROKA units away from their communist-suppression campaign in the South.  
Finally on June 25, 1950 North Korea invaded the South in an attempt to unity the country. The war lasted until 1953 killing over one million people and accomplished exactly nothing with a new ceasefire line set at the 38th parallel.
The Present
With the Chinese Russian falling out in the 1950's and 60's North Korea came into the Chinese fold.  Since then China has moderated its policies while North Korea has ended up a feudal state ruled by a handful of families for personal gain, maintaining the fiction of being a communist state.  
South Korea has prospered as has Japan over the past decades while North Korea like all feudal systems has stagnated and fallen far behind in terms of the public good.  To maintain their position it has been necessary to maintain a "us against the world" belief in the masses whipping up fear of external threats and following that up with militarist bombast.  
At this point even China realizes that North Korea has become a liability and while they will strongly protest any attack they may well be privately pleased that the coalition is resolving the matter for them.    
One would expect that an attack – if it comes – will attempt to decapitate the regime leadership,

Destroy the masses of North Korean artillery located within range of Seoul,  

Destroy the ballistic missile and nuclear weapons programs,  

Destroy the NK Air Force,

Destroy a substantial part of the massive munitions and military supplies stored across the country.  
This would destabilize the nation and China or South Korea would probably move in to restore order.  While the coalition has massively superior power, the huge number of sites on the target list will take some time to exhaust.  The US has weapons such as the massive 31,000 pound MOAB bomb to use against missile and nuclear systems while the north has no significant defenses against allied stealth aircraft.