28 May:   A Mideast war is brewing and Kim may be holding back his next nuclear test until the US is occupied elsewhere.  Trump is still determined to change the regime in North Korea and leave the aftermath to China and South Korea.
16 May:  New South Korean president to visit Washington in late June.
Russia tells US to stop threatening North Korea and talk responsibly. The American belligerence and refusal to talk to N.K. until N.K. agrees to all US positions first, along with Syria and Ukraine are fueling ever deepening rifts between East and West and a crisis seems to be coming.
14 May:  North Korea fired a missile early Sunday from a launch site near its border with China some 450 miles into the sea between the Korean Peninsula and Japan.  It was the first launch since Moon Jae-in, who promotes dialogue with the North, was elected president of South Korea last Wednesday. The new S.K. president immediately called an emergency meeting of his national security council.
12 May:  Trump may still eventually attack North Korea over missile / nuclear program without permission from South Korea, and leave it up to South Korea and China to pick up the pieces.
11 May:  Sworn in early yesterday, South Korea's new President Moon Jae-in has promised to "urgently" tackle his nation's serious foreign policy problems, with an eye on trying to defuse soaring tensions with neighboring North Korea, while also trying to come to some sort of agreement with the US and China over the THAAD missile defense system.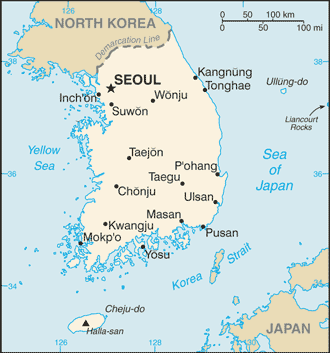 Moon is an advocate of diplomacy, who has promised a return to the Sunshine Policy which aimed to improve relations with North Korea. He has also said he favors peaceful reunificiation of the Korean Peninusla, and thinks South Korea should feel free to "say no" to the US
That could be an early test for him with respect to the THAAD, as Moon has made clear he believes the US deliberately forced the THAAD deal through during the lame duck government to avoid having to negotiate on the system properly. The THAAD is increasingly opposed among many South Koreans, particularly based on Trump's calls for them to pay for it.  
Trump has invited Moon to Washington for talks.
9 May:   Trump losing Korea and Pacific Asia?
So far the Trump presidency has been a disaster for America with Trump trying to bully everyone in sight.
When President Trump demanded that South Korea pay for the $1 billion THAAD missile defense system being installed in South Korea, South Korean officials made it clear pretty quickly that wasn't going to happen. They had an agreement signed, after all, and payment wasn't part of it.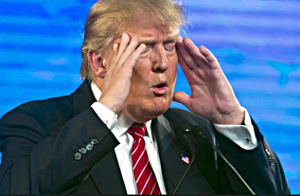 National Security Adviser H.R. McMaster was quick to try to defuse the issue, insisting that the US would "adhere to our word" and pay for the THAAD, and that Trump's talk of paying wasn't official US policy. Apparently he didn't talk to Trump about that before the call.
Several sources are now reporting that Trump was "furious" over McMaster's comments to South Korea, got him on the phone and screamed at him, accusing him of "undermining him" on the plan to get South Korea to pay for THAAD.
This comes amid growing reports that McMaster has fallen out of favor within the administration, particularly with Trump, though the White House is insisting Trump still has every confidence in him. That's not what insiders say, however, with many reporting Trump "regrets" McMaster as a replacement for the sacked Gen. Flynn as National Security Adviser.
One too many threats by Donald Trump may have decided the South Korean election; this one the economic threat to cancel the US South Korean economic relationship with the US set the whole nation against the US and caused them to elect a pro China president and forced them into the arms of China.  
Has Trump been denied a war on North Korea?  Could peace be in the air with a move by South Korea towards China and away from the US?  That now looks possible.
Moderate Moon wins South Korea presidency, will seek peace with North, rapprochement with China.
China invites North Korea to major economic summit as new South Korean President vows peace with North and relationship with China, turning away from America.  For more than a decade the North has said its nuclear program was in response to US / S.K. preparations to attack it, saying the nuclear program would stop if the US stopped its major military exercises against the North.  
The Chinese economic summit is to replace the Pacific Asian free trade association which was cancelled by one Donald Trump, driving the Pacific Asian nations into the arms of China-Russia and the Shanghai Cooperation Organization sphere of economic influence.
---
April, 2017
US President Trump has sent an ultimatum to North Korea via Chinese diplomats warning that any further nuclear or missile testing would bring an American attack.   America informed Japan and South Korea about the pending attack weeks before the visit of the Chinese president to Florida.  
In Pyongyang Friday, sirens sounded for a snap civil defense drill, while in Seoul, the South Korean capital, some big corporations have begun evacuating their offices. Vice President Mike Pence travels to Seoul Sunday.
The plan to attack the North over its nuclear and ballistic missile testing programs triggered a government crisis in South Korea and the impeachment of the hard line war supporting president incumbent Park Geun-hye, on charges that her friend may have done something illegal.  That charge was a fig leaf for a power struggle between the war supporting hard liners and the softer peace oriented politicians. The new elections on May 9 are expected to bring in a new president who will stop the planned attack if it has not yet begun.  
The UNSC has passed several Resolutions condemning North Korean nuclear and ballistic missile testing in the past, but has never authorized any enforcement beyond certain sanctions; therefore any Allied strike would be technically illegal.  Nevertheless there are various factors in play which make an attack on North Korea's nuclear and missile programs essential.  
First is the obvious threat to South Korea and Japan which is continually growing and will reach Australia and Guam in the near future.  
Second and equally important is the fact that North Korea is part of the Axis with Iran, Syria and Hezbollah; and its research programs are sponsored by and will benefit those states.  
Contrary to western propaganda, Iran has never had an indigenous nuclear weapons program, they are much too smart for that.  Iran's nuclear program is in North Korea where Iran is very heavily invested and involved in the North Korean weapons programs.  
North Korea is prepared for a sixth nuclear test as soon as Saturday morning and other missile launches are expected in the lead up to Army Day April 25th.  The test weapon is estimated to be 19 times the size of the Hiroshima bomb and the final test before a working model can be produced for military use.  
Once this test is completed and analyzed, if it is successful,  nuclear weapons for military can be produced for North Korea and for export to her Iranian ally. 
Preparations  
300,000 South Korean troops with 17,000 US troops and troops from other allies have been practicing a regime decapitation and take down for weeks now,  

The United States has just sent a powerful armada being joined by Japanese and other allied warships off the coast of North Korea,  

The THAAD air defense system has been deployed,

On Thursday the US deployed its heavy bombers to Guam and Japan,  

China has deployed 150.000 troops along its border with North Korea,  

China suspends all flights to North Korea.
In reality the North Korean military is antiquated and no match for a modern enemy, which is why they are trying to develop a nuclear capability.  
North Korean regime change is viewed as an essential part of the coming Mideast war against Hamas, Hezbollah, Syria and Iran.   Along with the attempt to change the North Korean regime the focus will be on the Islamic State and then on a Syrian solution, while Israel takes care of Gaza and Hezbollah and the US Coalition destroys the Revolutionary Guards and changes the regime in Iran.  
This will bring confrontation with Russia resulting in the rise of a New Federal Europe.
Korea Background History
After the Japanese Meiji Restoration in 1868, a modern industrial state and a modern military were built for Japan by Britain and the United States over the next decades.  By the turn of the century the Russian Trans Siberian railroad was completed and Czar Nicholas II sought a permanently open port at Port Arthur in Manchuria because the Russian port at Vladivostok was closed by ice much of the year.  
Since Manchuria and Korea had long been in the Japanese sphere of influence, the 1904 – 1905 Russo Japanese War broke out and Russia was defeated by Japan.  In 1910 Japan annexed Korea and Manchuria and along came WWI, followed by the Bolshevik Revolution in Russia.  
By the mid 1920's resistance to the Japanese in Manchuria grew, with Russia backing a Communist Movement led by Mao and the US backing a Nationalist Movement led by Chang Ki-shek in China proper, from which they fomented resisted to Japan in Manchuria.  
Later after the fall of Japan in WW II these two movements fell to fighting one another.  It is a fact that the United States was attacking Japan via China for years before Pearl Harbor.  
These movements in China and Manchuria resulted in a similar situation in Korea with the communists mounting a guerilla movement to fight Japan backed by Russia under Kim Il-sung, who had received military training in Russia and been sent to organize resistance in Korea as a major in the Soviet army.   Not to be outdone America sent Syngman Rhee to lead a nationalist movement backed by the United States
With the defeat of Japan, Russia and the US agreed to divide Korea at the 38th parallel until the country could be unified.  This move was to separate American and Russian troops while about 700,000 Japanese were being evacuated to Japan, and allow time for an indigenous government to be formed since Korea at that time had no history of independent governance.  
Quickly the two sides began to consolidate their hold on the respective regions with the Russian controlled North putting down all American sponsored nationalists and the US military controlled South making similar efforts against the communists.  
The two sides could not agree on a formula that would produce a unified Korea, and in 1947 U.S. President Harry S. Truman persuaded the United Nations (UN) to assume responsibility for the South, although the U.S. military remained in control of the South as a UN Trust. 
The creation of an independent South Korea became UN policy in early 1948. Southern communists opposed this, and by autumn communist uprisings had engulfed parts of every Korean province below the 38th parallel.
The fighting expanded into a limited border war between the South's newly formed Republic of Korea Army (ROKA) and the North Korean border constabulary as well as the North's Korean People's Army (KPA). The North launched cross-border guerrilla incursions in order to draw ROKA units away from their communist-suppression campaign in the South.  
Finally on June 25, 1950 North Korea invaded the South in an attempt to unity the country. The war lasted until 1953 killing over one million people and accomplished exactly nothing with a new ceasefire line set at the 38th parallel.
The Present
With the Chinese Russian falling out in the 1950's and 60's North Korea came into the Chinese fold.  Since then China has moderated its policies while North Korea has ended up a feudal state ruled by a handful of families for personal gain, maintaining the fiction of being a communist state.  
South Korea has prospered as has Japan over the past decades while North Korea like all feudal systems has stagnated and fallen far behind in terms of the public good.  To maintain their position it has been necessary to maintain a "us against the world" belief in the masses whipping up fear of external threats and following that up with militarist bombast.  
At this point even China realizes that North Korea has become a liability and while they will strongly protest any attack they may well be privately pleased that the coalition is resolving the matter for them.    
One would expect that an attack – if it comes – will attempt to decapitate the regime leadership,

Destroy the masses of North Korean artillery located within range of Seoul,  

Destroy the ballistic missile and nuclear weapons programs,  

Destroy the NK Air Force,

Destroy a substantial part of the massive munitions and military supplies stored across the country.  
This would destabilize the nation and China or South Korea would probably move in to restore order.  While the coalition has massively superior power, the huge number of sites on the target list will take some time to exhaust.  The US has weapons such as the massive 31,000 pound MOAB bomb to use against missile and nuclear systems while the north has no significant defenses against allied stealth aircraft.